I'm starting a new weekly review! It's on Tuesdays because unexpectedly life-altering things always happen on Tuesdays. It's that day of the week that sneaks up on you. So maybe my reviews will change your life. Mwahahahaha.
I know there are a million bloggers (and especially sex bloggers) writing reviews of sex toys and other sexy shit all the time. I'm going to do that, too, but I also want to write about books that have blown my little feminist mind and movies that have stretched my imagination. I'll write about porn, too. Hell, I'll talk about random office products or food items if the mood strikes me. (You'd be surprised how sexy some paper weights can be.)
So this shall be the Everything Review.
Starting wiiiiiiiiiiiiith: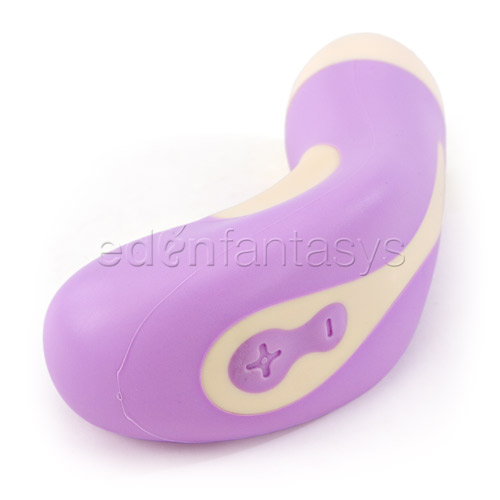 The
LayaSpot
Vibrator from Fun Factory
This is my favorite vibrator. That's why I'm reviewing it first. I've had it for years, and it lives on my bedside table instead of in the drawer with the rest of them. To put it away would be silly - I use it too often. I've gotten many other toys, but none of them have successfully unseated my
Laya
in its place of honor.
The biggest reason for this is that the
Laya
has the perfect level of vibration for me. Everyone is different, but I'm not always in the mood for a powerhouse like the Hitachi Magic Wand. The
Laya
has some kick; it's definitely more of a buzz than a tickle, but it doesn't leave my hands and clit numb unless I use it for a good long time. If a tiny tickle is a 1 and a motorcycle rumble is a 5, I'd say the
Laya
rates a 3 on the vibration scale.
It's also pretty quiet. When I had a roommate, I used it plenty of times when she was asleep across the room, and she's never heard it. And yeah, I asked her. We're pretty close like that.
I use the
Laya
as an external vibe. I really like how it covers my whole vulva, so I get stimulation on my lips, urethra, and the opening of my vagina as well as on my clit. I can see how you'd use it by inserting the hard plastic end into the vagina and letting the rest of the body of the vibrator touch the lips and clit. It's kind of an awkward angle to do this, though, so I wouldn't especially recommend it as an internal vibrator.
It's got very user-friendly controls. It's super easy to push the buttons and change the vibration while you're using it. There's a little nub on the plus button, so you can just feel your way and adjust as you go. The seven speeds of vibration are continuous, so you can just push the plus or minus button until you get to a place you like.
It also has three speeds of pulsation. The only problem with the pulsation is that you have to turn the vibrator all the way up before you get to the pulsation programs. This means that in order to turn it off when it's pulsating you have to push the minus button all the way through the vibration speeds. This isn't as speedy as it might need to be.
The
Laya
is made out of elastomer and hard plastic, so it's easy to clean and there are no icky pthalates to make your vagina smell funny or cause health complications. You can get it wet, but don't submerge or boil it, as you don't want to damage the motor.
It comes in a variety of pretty colors. Mine is pink because I so love the irony of a girly-ass color on something I use for dirty things.
One drawback to this toy is that it uses AAA batteries instead of being rechargeable. It's waaaaaaay cheaper than rechargeable vibes, though, so if you're looking for an affordable vibe this might not matter that much to you. I'll be happy when I find a comparable toy that doesn't make me worry about the affect my masturbation has on my carbon footprint.
I love to lie on my stomach with the
Laya
between my legs while a man fucks me from behind. It's not quite small or soft enough to use during vaginal intercourse if you're really into the missionary position, but I'm sure you can be more creative than that. It's also easy to hold while a man or woman has a hand (or a few fingers) inside me.
The Bottom Line: I love the
Laya
, and recommend it for anyone who likes moderately strong clitoral stimulation.